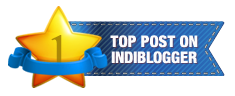 PM Modi has done it again. This time he has reached a new target audience- lakhs of school students across India. He has
inspired
them. Such
interactions
are needed more often. Indeed, the PM has to be a leader, an inspirer so that our nation can surge ahead. Glad that we have a PM who fully realises this.
Things that I especially liked in the interaction:
a) Sharing his
notorious childhood
activities. It was unexpected!
b)
The Nagpur example
: On full moon nights, how to connect with the heavenly environment? Simply switch off the streetlights and let the people enjoy the natural beauty of the romantic night!
c)
Read
. Read whatever and how much ever you can. Read even from the newspaper packet in which
pakodas
(hot crispy snacks made of gramflour) are served. [Sadly, nowdays they give in polluting polythenes only. He should have driven that message too- STOP USING THOSE POLYTHENE BAGS]
d) Think of
what you wanna do
, not what you wanna become. Simple, yet powerful message.
e) His masterstroke: Revealing that the exercise was actually a
mapping exercise
...seeing how many teachers' inboxes he can actually reach, showing the power of how possible future MOOCs (Massive Open Online Courses) can be delivered throughout India
f) Laying stress on
sports
. Encouraging students to be playful, energetic than just being glued to books.
g)
Saving electricity
was effectively driven by PM. Using energy efficient devices, switching off fans/lights when we go out of a room, simply enquiring about electricity bill and then working to reduce it.
h) How doing small tasks will also amount to doing
national service
. Simple tasks like saving electricity, water, teaching for just one period in the nearest school. As I've participated in
http://mygov.nic.in/
, I could immediately connect it to several tasks therein.
i) Loved the incident on
'Skills'
where the M.A. pass person does not know what he can do when asked the question "what can you do?", yet needs a job. This is indeed the problem in India. Families stress on degrees than learning, which needs a definite change.
j) When he said- "At least today for entire day, the Media has
focused on showing so many children
from around the country on tv sharing their thoughts and expectations. Thanks to the Media and this event for that." Very much spot on Mr.PM!
k) The
mapping of vocational skills
with those required by the nearest industries must actually be made compulsory throughout India. It will solve many problems of migration and associated social, economic, political issues.
What I did not like in the interaction:
a) His using
balak
(male student in Hindi) most of the times. Very few times he said
balika
(female student) comparatively. And saying how
balaks
like to dress like
shikshaks
(male teachers). What about
balikas
wanting to emulate
shikshikas
(female teachers) then? He could have actually made more use of
gender
neutral words like perhaps
vidyarthi
(student).
b) His saying that '
climate is not changing
, we are'. This is factually incorrect.
We must realise the fact that even if each of us 125 Crore Indians change our habits starting RIGHT NOW, then also climate change will continue to occur and affect us. Because historically Greenhouse Gases (GHG) have piled up which will continue to change the climate irreversibly. All we can do is to mitigate and adapt to it effectively to prolong the life of our Earth and our future generations.
Also, India is among the least per capita GHG producing countries in the world today. In international fora, like upcoming Paris Conference in 2015 and future Climate Conferences, India has to play a leading and stellar role to emphasise this and be a world leader in reducing further GHG emissions and coping with climate change by co-opting developed countries further.
c) He said- If we save electricity, then those
whose homes are dark will become lighted
. This is again factually incorrect.
Actually, when we save electricity, the maximum we do is to delay or reduce the burning of coal which is mainly used to generate electricity in India. The electricity saved will unfortunately, NOT get diverted to light say a poor home in a remote part of India. The unlighted poor homes will get light only if (a) they are grid connected or (b) they are given offgrid electricity solutions. And we are a long way away from either- today 300 million Indians still have NO ACCESS to electricity.
d) He said the right thing that how respect to environment is ingrained in us- how Moon is called
Mama
(Uncle), how rivers are Mother for us and so on. Yet, I'm afraid he's not WALKING THE TALK on this.
Environment seems like a non-issue
for him in pursuit of development, as seen from no start of action even over his pet project of Ganga Cleaning [Thanks to the Supreme Court for tapping the Government's knuckles over this], rapid clearances for many projects without thought for rehabilitation of tribals/affected people and so on.
e) I did not think of this, yet later when I was flipping through news channels I tended to agree with this criticism-
"Teachers' voices should also have been heard on this occasion"
. Yes, of course- it's their day after all! Their sacrifices, their hardships, their expectations should have been aired.
Yet I have a feeling the idea would have occurred and later been scrapped- which teachers would have been prioritised for sharing their thoughts? And they would not ask questions like students- a separate, deeper level of engagement would be needed. Hope they think for this for next year- as this year, the time for preparation was short.
f) Also,
deft management was required prior to the interaction
so that political bickering could have been reduced. For instance, the directive could have been worded in a more nuanced manner than sounding 'dictatorial' and requiring clarification from HRD Minister later. Also, timing should have been made more convenient - morning instead of afternoon, so that normal bus timings, teachers'/students' plans for spending latter half of day etc. would not be hampered.
Conclusion:
All in all, the overall interaction was great. It was
motivating
and a
never before exercise
that a PM reaches out via technology to millions of students. This was indeed a clever mapping exercise and now, whenever in future the PM wants to communicate with schools and teachers, he can do so in just a click!
I love this use of technology, as we as employees/share-holders of new age companies are habituated to getting e-mails from CEOs/MDs in our inboxes. When the PM reaches out to citizens' inboxes directly, as he did even on Independence Day, it is a transformational experience. He is indeed the
CEO of the Nation
! All kudos to our PM for taking these transformational steps. Data is indeed powerful- an enabler, if used correctly. Now this must be securely maintained, otherwise its misuse can spell doom as well.
Looking forward to more such
optimism filled exchanges
. India sorely needs these, to rise above all nations in the world. These, followed by
definitive action
, to march far ahead.
Yes, we can.
And,
WE MUST
!
Jai Hind!
**Linking this to letter 'I' (Interaction, India, Indian, Inspire) of
ABC Wednesday
.