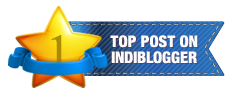 The wintry night warmed my hands,
And left me alone to muse.
I loved the sheer tenderness,
That this chilly night had bestowed.

Perhaps it was the warmth within me,
Deep in my soul;
Spreading through my body,
And making me feel like gold.

Fresh as a bloomed flower,
I muse about life;
What with the night around me,
And the celestial light.

I am lit up;
The light in a thousand dark miles.

I am the oasis in the fiery desert.
And the rain in the lands so dry.

I am the Sun- rising, setting and rising,
And the Glory, for whom Humanity has been waiting.

I have come, I am here.
Let there be no vice, no fear.

Hold my hand, we shall go far,
Don't look below- look up at the stars...........