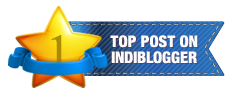 This is phenomenal. I was just watching "LIVE" coverage of Narendra Modi's cavalcade going towards party Office in Varanasi. This is mass hysteria. Very clever planning so far by the party- the 24*7 media is doing all it takes to cover this!
The smartest way to get into India's and indeed the world's every household's drawing room is to build a campaign with as much hysteria as possible so that 24*7 news channels cover it anyhow! The party is leveraging this like never before! [I seriously feel AAP was ahead in this department but sadly lost out due to its 40-days-and-over strategy!]
This was on April 24th..more planned, organised..yet today's looks raw, spontaneous! Source
Headlines Today has a drone giving high quality images of the craziness. Alongwith this, in the background a small child saying slogans in favour of Modi are heard. Then there's Rahul Kanwal's voice squeaming- "
Aap chhote bachche ko kyun politicise kar rhe ho? Usko Kejriwal bhi achcha lag sakta hai!
" And the surprising response of the father is - "
Ye mera khoon hai...ye Modiji ko hi support karega!
" OMG...can you believe that?!
Times Now has its reporter perched on the top of a building talking non-stop. They give some good shots (bird's eye views!) and how jamming vehicle moved half a kilometre away from Modi's vehicle
'which was never ever supposed to happen'
was discussed at length. And strategically, every few minutes
Frankly Speaking
episode of Arnab with Modi to be aired at 9 today kept popping up! Now that's double whammy media planning...the party has nailed it!
CNN IBN misses out on the good-shots-from-a-vantage-position part. Still Bhupendra Choubey more than makes up for it by talking to common people chanting Modi. He gets his hands on a Modi look alike who says- "
Mein Modi hi hoon!
" And in between a super enthu youth comes to the mike shouting 'Modi! Modi!'.
Sorry Vidya Balan....far more "Entertainment Entertainment Entertainment" is on election-covering 24*7 media channels!! :P
All the high drama. All the euphoria. All the dares to EC. All the praises to EC. It gets over on May 16.Victorious ones will dance, jump, ride bikes like mad. Losers will whine, hide, sweat.
So what about me?! I just have one hope-
I hope India's destiny changes only and only for the BEST.... :)