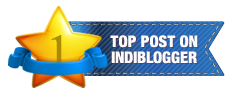 This is not possible. Unless Modi is gifted with powers to inspire (he calls himself
'Jaadugar'
or magician) he cannot move a nation of 125 crore people to tears, to elation, to pure inspiration- all at the same time.
And guess what?! Such powers need not be gifted...they can be cultivated- through years of committed work, through focus, through centralising the forces of the Universe within our beings....the best of 'the power of attraction', when the Universe conspires to give us everything we really want coz we work unimaginably hard for it. Clearly, Modi's life story brims with the cultivation of his extra-ordinary powers to inspire people. Mind you- it's such unending spiritual energy that energises masses and classes alike.
In most of his interviews, I saw a statue of Swami Vivekanand behind him.
I also recently read that he visited Belur Math since he was young and was rejected for being its member twice. Then as Gujarat CM when he went, he alone was allowed to meditate for 20 minutes in Swamiji's very room. Also, I've heard that as a teenager, he went off to Himalayas for two years and then came back to serve tea in his father's stall. Then he was picked by RSS and worked dedicatedly living in a single dingy room. Later, he worked hard for BJP till he became Gujarat CM. After that, he continued his commitment to turn loss-making Gujarat PSUs to profit, enthusing bureaucrats and ministers to work for progress, starting 'Vibrant Gujarat' Summit and making it an annual institution and above all, marketing such achievements smartly and selling dreams of even greater development for entire India. Taints have never left him, yet he overcame all of that to emerge triumphant.
Whatever obstacles in his path, have been getting cleared. Clean chit by SIT in Gujarat riots (no evidence found), fake encounter case in limbo (evidence again), his anointment as PM candidate overcoming internal bickering (continues to this day, yet have been somewhat resolved now..his detractors within the party seem to have mellowed considerably), appointing judge to probe Snoopgate controversy was shot down unexpectedly by UPA constituent NCP and also, true to his style of being most effective when opposition almost does not exist (the good type of 'autocratic' functioning) he got the decisive verdict also in that way. This is nothing short of a miracle.
Fortune favours the brave. This has been a man working with single-minded devotion- making links with the most resourceful people who helped further his campaign, 'coz they believed in his vision, his leadership for India. Yes, that's only a leader- one who can enthuse with one's vision so that others work hard to fulfill that. Through his thousands of rallies and meetings, he has inspired millions- showed them dreams of a developed India. Now he must work taking all Allies and even Opposition together, to fulfill those dreams.
Actually, even after winning, he has done several things which can even capture hearts of enemies. Well-thought out. Perfect depiction of Indian Culture. Be it symbolism or be it from heart, it has touched chords of old and young alike.
1) Meeting his mother and taking her blessings first.
2) Visiting both his constituencies- Vadodara and Varanasi. 'V' for Victory in both!
3) Modi touching Advani's feet at every occasion after the victory especially
4) Yet, today it was most astounding. First, he bowed and touched his head to the steps of 'Temple of Democracy' i.e. Indian Parliament before he entered it.
5) Then, the man of steel, who was single-handedly countering all the brickbats of venomous political parties throughout last ten months, broke down. The single tear was captured by the cameras- he was deeply pained coz serving Mother India was not
'krupa'
(kindness)- it was his
biggest duty, fortune and Dharma as a son to serve his Mother with deepest devotion.
None had seen this side of Modi. Suddenly, people were touched like never before. Modi magic had captured and touched most people.
6) When he met Honourable President of India, it was a picture of renewal of Indian Democracy. The PM who oversaw scams silently was gone. Now sat a generous statesman, talking inspiringly with the delighted President.
Analysing all this, I just have the following to say:
Modi has centred so many spiritual powers within him. For this reason only, he can inspire and influence so many people. His every rally had different words being told. He works like clockwork by sleeping minimum. His curiosity to always learn has helped him immensely.
I've heard that people who do not marry, conserve their energy and can put all of that boundless energy to infinite use. Swami Vivekanand was like that. No marriage. No fulfulling carnal desires. Rather channelising all that energy which might have been spent in carnal pursuits, towards higher purpose of life. Singular focus- development of youth and upliftment of society. He could energise the youth like no one ever before or after him.
Modi being Swamiji's ardent devotee, has charted a similar path. He is almost unmarried [married yet practically unmarried]. He has made use of the energy of his life, towards being Prime Minister- towards leading Mother India to the path of glory.
So filled with optimism, I hope that may Modi's detractors be proved wrong. May he emerge a bigger Statesman each day. May Mother India be served to her best. May inclusive and sustainable development of India occur in a fast forward mode....