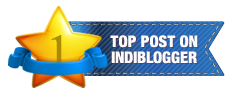 Seeing my post on IndiBlogger (IB) Homepage for the first time was such a delight!
Four-months old in IB
*, I was waiting keenly for the moment to behold this sight!
I captured the image and waited for my IB Top Badge e-mail with bated breath,
By the time I got it, for my post to remain as Top only few minutes were left!
Source: Excitedly self clicked!
Still those eight minutes were the sweetest so far in my IB existence,
Mantras to thrive here are-
survival of the fittest, patience, persistence
!
It was only divine justice that my 26 Jan post should be the chosen one,
The shiddat for this achievement, made me feel like I've run a marathon!
Why all the
shiddat
to come at the top- this has a simple answer,
For we all want to WIN, for
everyone loves a winner
....!
Realization dawned about how IB's is a huge give-and-take Universe,
How some great blogs are hidden from our eyes only due to low votes...
On the cusp of coming on the home page, my post has often been victimized,
Even if I've already voted for their posts, people abstain from voting for mine!
And then there are those who come and vote, but for my old posts!
And my latest post lies a poor victim of politics- ignored and uncared for!
Yet there are those who disappear for long, soon after voting for the post,
And there are also those whom I am always thankful to- my true dosts!
My network has grown by leaps after coming on the top page,
Very rightly IB says- it's a good thing to care and reciprocate!
By visiting many bloggers' posts, I have written comments,
When they visit my blog and write, it gives me pleasure immense!
I'm happy being an active IndiBlogger as I'm learning every day so much,
A vast world, different topics, various people- SO MUCH TO DISCOVER!
*I've been blogging since 8 years (2006..do check my archives!) yet joined forums like IB only last September-end. Why I love Blogging will tell U more about why I started and continue to blog!
Still I got only 5 votes for Why I love Blogging when I posted it on Indivine last month (when I was seriously unaware of how things work in IB!). I used to wonder then, why this interesting post is not getting votes! :P Similar was the fate of my so many initial posts...check pic below! Until I did real mehnat for my 26 Jan post which HAD to be on IB Home Page as it is a heart-felt wishlist dedicated to the progress of our beloved India.
Source: Screenshot of My Posts on Indivine
**PS: I've written this post candidly from my heart, as it's very special to me. Many of you (whose posts within a couple of hours only become top posts on IB or elsewhere!) may think this is a silly and naive topic to wite about. Yet I feel many of you may have gone through this phase too.
Being an optimist, I believe 'This too shall pass'...! Thanks always to all my blogger mates who have helped me grow as a person- vote or no vote, comment or no comment!
Yet, I must state here the very apt words of Nabanita- a fellow top blogger...
"Trust me nothing motivates us bloggers more than a comment from our readers"!
I love blogging and I am a BLOGGER FOR LIFE! :D