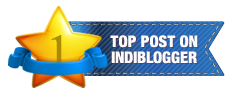 Trained under '
Chotiwaaley Baba
', she was an *MBA* high-flying!
There she got the gold medal of the topper,
And now wants to become a *daring* IAS officer!
White skin color like a frozen rose,
Thorny in her every encounter and approach!
So rude and never a smile,
Even if many smiled at her a couple of times!
With care she is left and picked up daily,
A frigid air ; Madam-Know-It-All types!
Initially guys drooled over her,
Looks down upon all,
Thinks only she knows fluent English!
Argues with the teacher,
At the drop of a hat!
She writes non-stop like an express train!
Even to congratulate success she feels envious pain!
All are afraid to ask for her well-written notebook,
As she can freeze you dead with her icy look!
Big spectacles over her smooth thorny face,
The #Serious look is there in any case!
No picnics, no joining in gatherings,
Friends with only one other know-it-all!
She doesn't laugh- she jeers,
Seems in life she's left with no real cheer!


Iski toh #ConditionSeriousHai!
Someone needs to explain to her and say-
Chance is less for Frozen personalities,
To occupy positions in India's Premier Services!
That it's not enough to just mug up & learn & look down!
That it's important to smile :) rather than frown :X!
That life is more than books and newspaper information,
It's also about Cadbury 5 Stars, happiness, jokes and fun!
**This post is my entry for #ConditionSeriousHai Contest organised by
IndiBlogger and Cadbury 5 Star
. Refer to:
the Cadbury 5 Star Facebook page