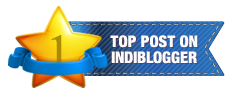 Do you know about "The International Sand Art Festival" organised by Odisha Tourism every December by the golden sands of Chandrabhaga Beach in Konark, Odisha?! In case you do not know, please read my previous post in which I relive my enchanting experience of this unique festival.
On the day I visited there, amongst the exquisite thirty sand-art exhibits, I encountered a beautiful sand-art by a French Sand Artist.
Let me tell you at the outset that I've always associated France with Romance! What with the French Kiss and all that! And Paris is the City Of Love after all!
So, I was not at all surprised to see the theme of the French artist's sand-sculpture! It was L-O-V-E all the way!


Trust the French with this topic! ;)
And I must say, it was refreshingly different. The French Sand Artist through his Art had touched the chords of his Art's beholders. I wondered, amused, that how he had very simply, beautifully and effectively spoken the language of love through his sand-sculpture. A beautiful mermaid-like lady with flowing hair was in it in the centre and whirls were made around her with L-O-V-E written on the sides as in the pic above. It gave the impression that she was the very embodiment of love; that she was surrounded by love and also infinitely attracted to it.
I realised that to depict LOVE on any canvas, the artist must first and definitely have love, tolerance and compassion towards his/her known people and unknown strangers as well. Many people crossed by who simply put up a 'thumbs up' sign to him, upon which he smiled with compassionate eyes and he was also tolerant of those who called on him in the middle of his Art. Patiently he sculpted his Art and the LOVE and devotion for his work was crystal-clear!
In fact for every artist, his/her art is a work of tremendous LOVE. Similarly, we become successful in any task only if we do it out of love. Suppose we give alms to a poor person and if we do not have love for mankind and compassion in our hearts, he will not be able to use our alms properly. When somebody is talking to us and we hear but do not listen, it has a bearing on the relationship as a whole. Cultivating successful relationships is an art by itself. If we invest love, we will reap rich dividends of more love, happiness and peace.
Any masterpiece in this world is a culmination of over-flowing love, passion and dedication of the artist. Undoubtedly, thus, this love spills into forming the ethereal connection of love between the art and us (the beholder, listener etc.) which creates those magical and mesmerizing moments of life.....
....moments which make our lives worth living, as....
.... we feel ALIVE with the scintillating energy of LOVE ......
~~~~~~~~~~~~~~~~~~~~~~~~~~~~~~~~~~~~~~~~~~~~~~~~~~~~~~~~~~~~~~~~~~~~~~~~~~~~~~~~~~~~~~~~~