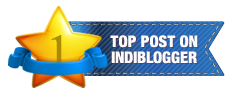 The beautiful state of
Odisha
voted today for filling up 11 Lok Sabha seats and 77 Assembly seats. Earlier, voting for 10 Lok Sabha seats and 70 Assembly seats had been completed. The Northern and Coastal districts of
Odisha
have voted today. News reports say that 70% voter turn-out was witnessed- quite high compared to states like Rajasthan, Karnataka etc.
I voted too from
Bhubaneswar Central constituency
. Felt great!
I hope the best candidates win, who can contribute more to growth of Bhubaneswar and also voice our demands at both Lok Sabha and State Assembly effectively.
Industries and agriculture both need to be given a push here. Well-planned urban renewal is required and sustainable use of resources is necessary- not the mindless felling of trees for expansion.
Simultaneously, Odisha's representatives at Lok Sabha must voice our grievances and get the Centre to provide more funds for more rapid growth and uplifting more people from crippling poverty. More engagement rather than neglect by the Centre is needed for more rapid progress of our natural disaster-prone state. Infrastructure needs to be shored up further and more job opportunities need to be built up faster.
I hope
Elections 2014
heralds a new success chapter not only for India, but also for
Odisha- my gorgeous home state!
:)
**This is my post for letter 'O' of
A to Z Challenge 2014
.