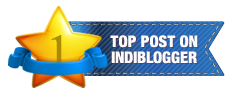 Blogging is an expression- of the depths of our souls. My blog is like my closed empty room- where I shout. I scream. And the echoes come back to me. But wait…isn't that so boring? Hearing your own echoes all the time…? So no. That's why the room was made with large windows and doors so my voice reached out to all who were near and far. Best thing is many of them cared to respond back, to tell me I am not alone, to make me feel that we are all together- in this roller coaster ride called Life.
That's why like we have Valentine's Day, Friendship Day and so on- we never need to have a Blogging Day. Why? Coz EVERY DAY is a Blogging Day! Every day lakhs of people around the world pour their heart out on their own space in the world wide web! Every day is a celebration- of our inner selves, our own expression. The writing may be happy or melancholy- whatever it is, it gives us contentment we crave for. And that's why bloggers compulsorily write. It is our only solace in this fast paced life, slipping away from our fingers like sand.
The refuge of the un or under recognized, the luxury of the "connected people" (about a billion each day out of over seven billion in the world), the temple where we want to be praised/admired/respected- don't mind but our blogs are all these and more. It's nothing to be ashamed of. Isn't this our birthright that in our short lives we can seek as many outlets to reach out to the maximum quarters to gather admiration for ourselves? We are all selfish beings at the end of the day- objective, individualistic- the way we have been sent to earth- the way we will leave from here too- all alone.
Hence our blogs are us. We are them. We bloggers love our blogs. And just like we respect people, we respect other blogs too. We share the blog love by a shout back- a few lines of feedback. It makes bloggers' day- fulfils the hunger of both.
It's an amazing world- the way God made it. And we humans- just extended it by creating- THE WORLD OF BLOGGING……….:)