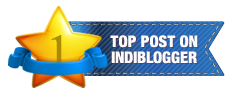 'Inspiring' is an art. Every person's life has glimpses of inspiration for all. These can be spotted by those who make an attempt to look for sparks of it. And the good news is- in a country of a billion plus people, there is no dearth of inspiration in everyday life!
Yet it is true that most Indians are largely inspired by the two so-called religions of India-
Cricket
and
Bollywood
. So, life stories and good works of Sachin, Big B, the Khans and so on are too well known and inspire people to make it big in life - to always work with passion and dedication.
However, after achieving 'superstar' or 'super-celebrity' status, very few personalities actually think of making a difference to society by spreading awareness for social causes. And
Aamir Khan
is one such actor who has taken fulfilling his duty towards society a notch higher by hosting the popular TV series
'Satyamev Jayate'
. In its first season last year, I ardently watched most of the episodes and was deeply influenced by the issues and the inspiring people chosen to be represented on the show by the research team of the show- be they the old women shooters of Haryana who earn shooting medals by learning it so late in life or the man who after having fought alcoholism himself continues to work to cure others' alcoholism and numerous other such stories.
In fact, the issues struck such a deep chord in my heart that I wrote a Hindi song and set it to tune. I decided to make a video covering the soul-stirring issues and I spread this burning inspiration got from watching the show via Youtube. Watch the video below, in which I'm the music composer, singer, lyricist and video director:
This is my sincere tribute to Aamir Khan and his show 'Satyamev Jayate'. I'm proud of this for it has the sweat of my passion, the result of inspiration from a great show even if yet unacknowledged by the Team of 'Satyamev Jayate' (I've shared this multiple times on Twitter & FB with the Team!).
Hope you all watched the video- do let me know in comments section how you found it!
Time now to spread the inspiration in our daily lives and make Indian society better! :) Satyamev Jayate. Jai Hind!
**This is my post for
Write Tribe Festival of Words 3 - Day 5 - Inspiring Stories.