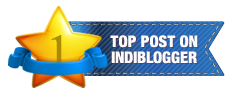 He could stare at her
For hours together.
Feel her hair on his face
From dawn till sunset.
Make her feel like a princess
Till time lasted...
Alas! She never,
Existed in flesh.
She was a painting
Which he had made-
Lifeless.
Yet the strokes of brush
Had given her place
In his heart's palace...
**This is my 55 word poem for
Write Festival - Day 6 - 55 Words
.