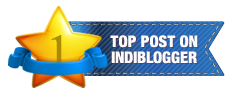 Ten-year-old Rutu had closed the bedroom door behind her with a thud and locked herself up again for the umpteenth time.
Her mother had warned her against doing it- still Rutu did as she was
furious
with her mother just because she had firmly told her to switch off the TV.
To her horror, Rutu found she could not open the latch of the door after a while, when she wanted to come out!
Panic gripped her as she screamed from inside making loud noises struggling with opening the door- "MAMA OPEN THE DOOR!"
Her mother
furiously
said-"It's God's punishment for you Rutu- now fight with the door to come out and don't you EVER fight with me again!"
**This is my post for
Lillie Mc Ferrin 5-Sentence Topic 'Furious'
.