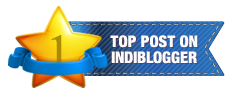 I asked God, "How far do I have to go to look for him and be close to him? After all, in a way, the whole world - now twenty-five strong countries...are looking for him...."
God said- "You have to go till the end of the world for him...."
Amazed and confused I said- "But I don't know where is that..."
With eyes shining like a billion stars, God said- "So find out...."
And then, I ran. I trekked. I jumped. I crossed mountains. And rivers. And forests. And concrete jungles. Tirelessly I went ahead. Only in my quest to reach the end of the world. And to be in his arms- smelling his smells, singing his songs...
And then one night I reached a sort of a cliff. I walked closer to its edge. I felt as if I was seeing the infinite in front of me. Only darkness, zillions of stars shining- above and below me.
I felt- Yes, this is the end of the world....
Just then, I heard a plane land behind me. I turned back to see a dazzling British Airways flight.
It was magical- the pilot said he knew what my destination was and would take me there.
I hopped into the comfort of the flight. After what seemed like days of travel in an infinite space, I spotted a sparkling planet below. The pilot landed me there and lo and behold- there was the Malaysian Airlines flight which everyone was looking for. I spotted my beloved there...he came running and hugged me...we were both crying....
Through foggy eyes I saw the pilot of British Airways waving goodbye to me and he disappeared within seconds into the vast infinite...
I was glad to be united with my lover..having gone so much further to be closer to my lover....
"
Go further to get closer
"
................and we lived happily in that planet forever.
FLASHBACK TO THE PRESENT::
I had jumped off that cliff......that end of the world..................
.......and I woke up from my dream....
**This is my post for
"Go further to get closer"
contest by
British Airways and IndiBlogger
.