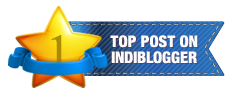 I woke up with a start. A most beautiful lady dressed in shiny golden robes with a heavenly smile, belonging to some country of South-East Asia stood there doing
'Namaste'
to me. Exactly like I had seen in picture postcards of Thailand, Singapore, Cambodia and Malaysia.
Source: Wiki Commons
She said nothing- simply smiled with a most bright halo around her head. Simultaneously I saw multicoloured lights twinkling from behind the closed doors of my cupboard. It was surreal- my room was flooded with brilliant lights and I was absorbed in a spell of magic.
And just then a flash came to my mind. I smiled- elated with deja vu and excited about what signals the Heavens had just sent me! I walked to my cupboard and held my twinkling machine in my hands. Just as I turned to touch the feet of my angel, she disappeared. Yet I cannot forget her last glimpse- she was like a Goddess blessing me - her palms were open and upright.
For the uninitiated here is the story of my
machine
.
This time I was ready for my blessed and smart travel to Singapore- the enchanting land which fused the East and the West with perfection! With no carbon emissions and least hassles, this would be the greenest and smartest way of travel for me! I said into my machine's mic excitedly:
Take me to Singapore today
Make me experience
Its sights, sounds, culture, smells
In the best possible way..!
And lo and behold! The next moment I was in Singapore! The lion spouting water from its mouth was enough for me to know- it was
Sentosa Island
!
The colourful markets of Lim Tua Tow, Tekka Centre and Chinatown were absolute treats to my eyes! Yummy Singaporean noodles and
Hainanese Chicken Rice
served to me by a kind friendly Singaporean couple I met at Tekka Centre filled my stomach and heart! They were so excited to meet me as I was from Incredible India and as they wanted to visit Lord Jagannath temple in Puri and I gave them all the information they needed, they were only too glad to host me for the next two days!
I toured all of Singapore with the smart bus card they had given me. Even the smart mobile phone which could double up as my wallet added to my smart way of travel in this ultra-modern tech-savvy place! I went to the awesome Universal Studios, Underwater World, brilliant Night Safari under a star -studded sky, Singapore Zoo, Singapore Flyer and several more places- all that I could jam-pack within two days!
When these two ravishing fun-filled days at Singapore came to an end, my machine beeped and vibrated in my pocket. My dear smart time machine!
I wished goodbye to my kind Singaporean friends and then filled with gratitude and a bit of sorrow, I walked by the side of a beautiful sparkling lake by their home and spoke into my mic-
I do have tasks back home dear friend,
Thanks for reminding me my cool smart friend!
So take me back from where I came,
Temple city Bhubaneswar is my home's name!
Then I was back to my room. I was most elated with my quick smart travel trip to my dream destination- Singapore!

I put back my twinkling time machine in my cupboard. I thanked my angelic Mom again - for recognising from heaven how stressed out I was and how badly I had to travel to my dream destination to recharge myself... and sent the beautiful angel from South East Asia to set me on my smart travel path...
From Mom with Love- from Norway in 2013
to
Singapore
in 2014.
I love you Mom. Keep me blessed always....and you do know this... I very often keep singing your one of the most favourite songs...."
Jeevan mein ek baar aana Singapore
" (*In your lifetime, at least once visit Singapore*)....No wonder your divine intervention sent me there...once in my lifetime so far.....:)