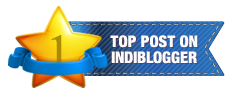 I love so many blogs and want to share each of them with the world for which a series of such *
share the love
* blog posts by me will be needed! Starting off with sharing the awesome ones given below!
1)
Sourav Ghosh
- Met this inspiring motivational speaker and entrepreneur recently due to #AvivaBloggerMeet for which I travelled to Kolkata from Bhubaneswar, and was surprised as well as honoured to read this amazing post from him after the meet:
http://www.souravghosh.com/blog/aviva-blogger-meetup-kolkata/
.
Request you to read links of each of the fourteen bloggers given in his
this post
, for each of them are superb bloggers (including me ;):D )!
2)
Wildflower
- This sensitive, phenomenal writer has a must-read blog about
love
,
loss
,
realities of life
and lots more who has been my school junior but far more than that, we have been great blogger friends as we both coincidentally started our blogs around the same time in 2006!
3)
Alok Vats-
When I was relatively new to the blogging community
IndiBlogger
this humble, sweet writer was one of my first friends and you must read his tremendously useful posts about diverse topics like
relationships
,
technology
,
blogging tips
,
SEO
,
good health
and so on.
4)
Jyotsna Bhatia
- I was struck particularly by one so heartily written post of this wonderful writer-
http://jyotsnabhatia.blogspot.in/2014/02/twenty-eight-and-single.html
for even I face the same situations at times and give her a high-five for it! I love her
poems
as well and her refreshing writing style in general, portrayed especially in the
Modi post
!
5)
Sachin Manan
-This sensitive analyst of many topics like
elections
,
capitalism
and so on is a real pleasure to read as he uses 'common man' names like Ramlal, Aadya etc. to make readers understand his rich perspective of current issues in India.
6)
Saket
- Thanks to
IndiSpire by IndiBlogger
, I discovered Saket's outstanding post about being
back from the dead
, a most touching and creative story which has stayed with me ever since and I want each of you to read it!
Hope you have gone through each of the above listed blogs as well as those of the fourteen bloggers listed in
Sourav's post
! Writing posts like these is truly the best way to
network
and
share the love
even before Write Tribe came up with "
Blog Love
"! Proud of the blogging community for this! :D
**This is my post written for
Write Tribe Festival of Words 3 - Day 2 - Blog Love
!